Proudly serving cake lovers with ❤ since 2001
We are a gift delivery service located in Greece. We accept orders from all over the world and through our extended network of pastry shops all over Greece (more than 100 shops), we deliver your favorite cake to your beloved friends and relatives in Greece.
Each cake is especially made for your friends in the nearest available pastry shop of their residence. This ensures that your gift will arrive on your friends' home on time, freshly baked.
We do not deliver pre-baked or frozen cakes and we have selected the best pastry shops in Greece in more than 80 small or large cities in Greece covering almost all popular destinations both in mainland or in the Greek islands.
Sendacake.gr delivers only to Greece and more specifically to the locations below:
   
Our Store
Thermi, Thessaloniki Greece
Phone: +30 6944 264387 (available on Viber & Whatsapp)
Email: info@sendacake.gr
   
Store Hours
Monday-Saturday 9am–7pm CET
Sunday 11am–6pm CET
| Athens | Thessaloniki | Peiraias | Rethymno | Mykonos | Patra |
| --- | --- | --- | --- | --- | --- |
| Kavala | Katerini | Larisa | Ierapetra | Lefkada | Ydra |
| Trikala | Veroia | Chania | Karpathos | Thasos | Nafpaktos |
| Ioannina | Aigina | Chalkida | Preveza | Chios | Florina |
| Pyrgos | Arachova | Serres | Alexandroupoli | Andros | Amyntaio |
| Irakleio | Grevena | Lamia | Naousa | Samos | Alexandreia |
| Kozani | Evoia | Rodos | Igoumenitsa | Ios | Oresteiada |
| Arta | Karpenisi | Mytilene | Santorini | Kalymnos | Milos |
| Kastoria | Kerkyra (Corfu) | Thiva | Xanthi | Mesologgi | Paros |
| Kalamata | Zakynthos | Kalampaka | Ikaria | Ptolemaida | Skiathos |
| Edessa | Gytheio | Nafplio | Agrinio | Tinos | Skopelos |
| Drama | Giannitsa | Komotini | Korinthos | Sparta | Sifnos |
We also deliver to nearby villages in a distance of 5-10 kms from every city or town mentioned above. If your place is not included in this list, please contact us at +30 6944 264387. Who knows, maybe we can arrange a special delivery for you.
We deliver different types of cakes, ranging from classic Greek cakes (Tourtes), gateaux, cheesecakes, logs to seasonal delights. We also provide cake decorations and specialize in edible, printed photos and company logos on cakes, birthday cakes. You can send us an email with your comments, image or artwork, and we would be able to transfer it on to a cake or cake decoration using sugar paste.
Our bakers do not operate within a nut-free environment. It is therefore the users' responsibility to check such issues, if they have any food/ ingredient allergies before submitting an order. Please do not hesitate to contact us should you have any queries. We would be more than happy to help you.
Don't hesitate to contact us for further information about our service and the quality of our cakes.
State/County map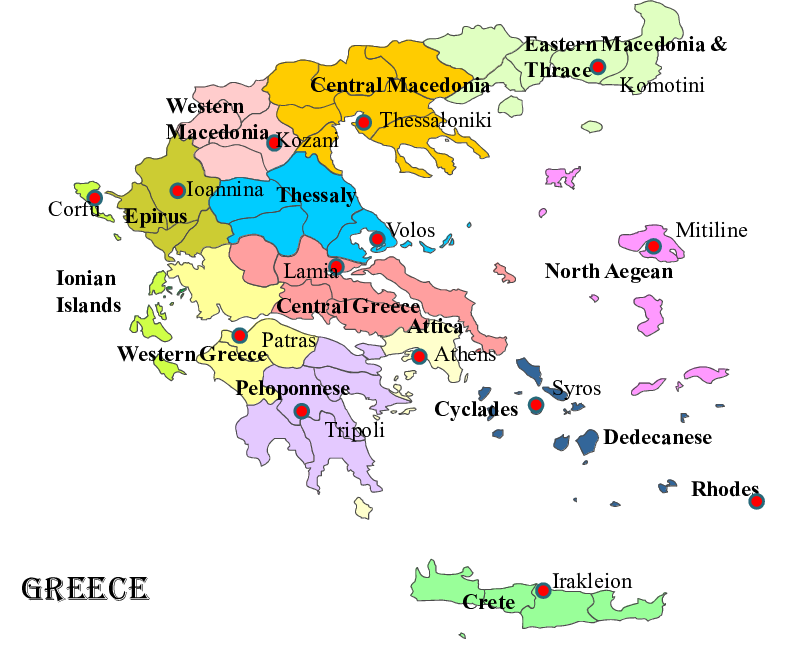 Athens is in Attica

Thessaloniki is in Central Macedonia
Mykonos is in South Aegean
Our goal is to deliver cakes within 48 hours of your order.
We do not deliver on Sundays (except in Thessaloniki area where we can deliver on Sunday).
If you want us to deliver a cake in National Holidays: on Christmas day, Easter, New Year's Day, Epiphany Day (6th Jan), March 25th, August 15th and October 28th, please send us an e-mail at least 4 days earlier. We will schedule the delivery (if possible) and then we will contact you. In any case, you're not going to be charged, without our service securing the delivery.
Please have in mind that we are a delivery service. We do not own a pastry shop or bake any cakes. We collaborate with a network of pastry shops in Greece. Therefore the only responsible for the quality of the cake is the pastry shop or bakery that we collaborate.
Due to the fact that we collaborate with more than 80 different pastry shops, it's impossible, for all the cakes that we deliver, to have the same appearance. Your cake may differ in appearance from the photos in products' page, but it will have the highest standards of quality and freshness.
In case we cannot deliver your desired cake, we will deliver a cake of similar or higher price and if it's not possible we will fully refund your money.
Shipping Method
We hand deliver your cakes, minutes after we receive them from the nearest bakery.
We deliver only in Greece
Although we accept orders from all over the world, our service is provided only in Greece. Check on top of this page to see these delivery destinations.
24X7 Customer Support
Feel free to contact us anytime for any kind of questions regarding our products and services.
We will reply to you as soon as possible.
We love cakes
Therefore, we love our service. We have delivered thousands of cakes to your smiling friends and relatives in Greece.
Every cake that we deliver is handcrafted and every pastry/bakery shop we collaborate has its own chef with his/her own way of baking and designing the cake. There might be a slight variation in the product in terms of design when compared to the images displayed on the website. The shape of the cake could vary based on the flavor selected. Having said that, we at Sendacake.gr always make sure that all cakes are very similar to the corresponding images displayed on the website and preserve their top quality standards of taste and freshness.
Operate a network of collaborating pastry and bakery shops
We prepare every cake just a few hours before delivery time
We don't bake the cakes ourselves. We leave it to the experts!
We don't deliver pre-baked or frozen cakes